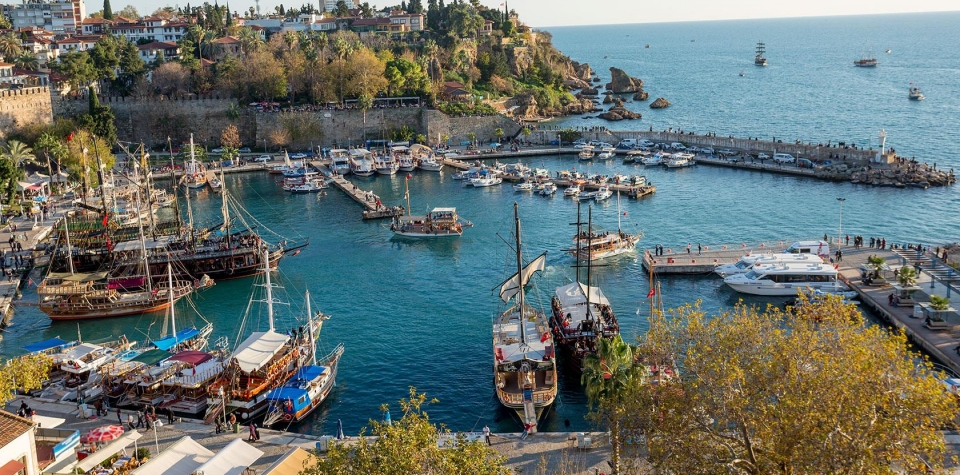 ANTALYA CITY GUIDE

Because of the archeological and natural riches of the area, Antalya is called the Turkish Riviera. The sea and sun, nature and history all come together in magical harmony here where the best and cleanest beaches on the Mediterranean are found. The 630 km shoreline of the province is literally strewn with ancient cities and harbors, memorial tombs and golden beaches and it is laced with charming little coves, lush forests and streams.
With its palm-lined boulevards, its internationally acclaimed marina and the charming castle with its traditional architecture set amidst the bustle of a modern city, Antalya is center of tourism in Turkey. Antalya hosts are wide range of sporting events: International Beach Volleyball, the Triathlon, Golf Tournaments, Archery, Tennis, Canoeing competitions and many more. The Cultural Center of Antalya, which opened in 1995 host cultural and art events like plastic art, music, theater and a number of exhibitions.
Sites of Interest
Lâra, Karpuzkaldıran, Side, Konyaaltı, İncekum and Kaş beaches, Çıralı recreation area, Düden and Manavgat water falls, Antalya coastal water falls, Düzler pine forest, Demre mineral springs, Damlataş, Kadini and Karain caves, Köprülü Kanyon, Sahil and Termessos National Parks, Aspendos, Perge, Side, Olympos, Xanthos, Termessos and Myra antique cities, Athena Temple, Fluted Minaret, Korkud, Murad Pasha and Kale Mosques, Karatay Complex, Evdür, Alara Şarapsa inns, Antalya and Alanya castles, Antalya Regional Museum, Lykia rock graves at Kalkan, Kaş and Demre regions.