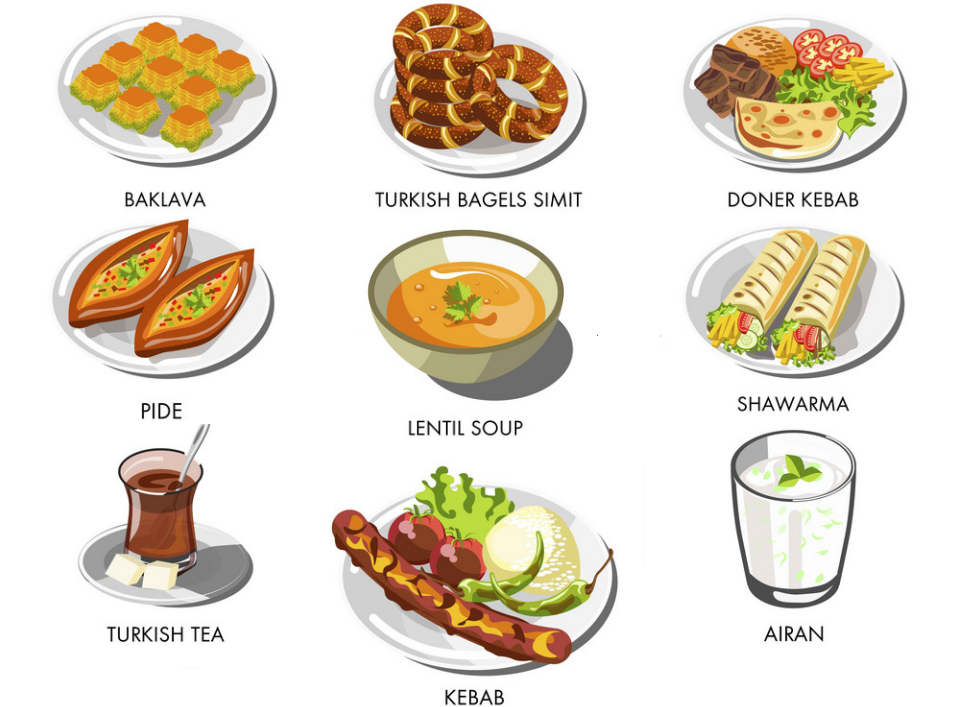 TURKISH CUISINE

Anatolia was the host of many civilisations such as Lycians and Hittites and lastly has been the host of Turks, who immigrated from Central Asia. The culture of nomadic Turks combined with the settled culture of Romans and blended with Egypt, Syria, Iran, Iraq, Balcans and the Aegean to make up today's Turkish culture. Naturally this multi cultured framework shapes life and art in Turkey.
While investigating Turkish cuisine, bearing multi culturedness and regional differences in mind would be of great help in understanding.
Eating plays an important role in Turkish peoples' lives. Especially dinner is a social occasion where all family members enjoy being together and have a chat. The oldest member starts the meal, others are to follow and so show their respect. Everybody must be considerate and respectful.
If the meal is served on a single plate instead of individual plates, members are supposed to eat just what they have in front of them. There are irreplacable favourites in the Turkish cuisine, such as:
EGGPLANT
With nearly fourty different varieties of cooking, it is also admired by the foreigners. Its nicotin content supplies a spicy taste.
YOGHURT
Yoghurt is eaten in almost every meal. Added into dishes during or after cooking, it is used lavishly. With the addition of water it is turned into ayran or eaten plain. In cases of toxication, it is advised to eat yoghurt known to possess anti toxic properties.
PICKLED VEGETABLES
Almost all vegetables, and even anchovies may be pickled. During winter when fresh vegetables are not abundant, pickled ones are used as a substitute for salad. They are necessarily eaten with dried beans and pilaf.
WHITE CHEESE
Known worldwide as fetta cheese, the name given by the Greeks, white cheese is produced all around Turkey with regional differences resulting from salt-fat content, fermentation period, taste and texture. Any breakfast can not be considered without it and it is used in boreks and mezes.
OLIVES
Both the green and a little more matured black types are eaten amply at breakfast served with a mixture of olive oil, oregano and red pepper into which toasted breads are dipped.
ONION
The white, red, fresh or dried types are consumed lavishly. It is used in nearly all hot or cold dishes. A typical Turkish breakfast consists of white cheese, olives, jams, butter, eggs, sucuk (spicy charcuterie), bread and tea.
There is a tradition to prepare summer's ample variety of fresh produce for winter. Methods for winter preperation are; drying fruits, making jam and compotes, pickling vegetables, cooking pekmez from grape juice, making tarhana, yufka and tomato paste.
Dishes are generally cooked in liquid thereby eliminating the necessity to use sauces. Meat, grains and vegetables are cooked in the same pot, enhancing the flavour and taste of the dish, lid of the pot closed.
Dolmas-stuffed vegetables have a great part in Turkish coDokery. Vine leaves, peppers, eggplants, mackerel and mussel may be stuffed.
Two kinds of stuffing are with minced meat or with rice, which constitutes a surprising example by combining currants, pinenuts, sugar, herbs and spices. Turkish cuisine is colorful and multi cultural.
PRINCIPLES OF TURKISH KITCHEN

It is essential to have bread during the meal.

Variety of rice end pastries are so important.

There are large variety of meat menves besides kebab.

Vegetables are all cooked in tomato-souce with onionand meat (Not just boiled).

All the ingredients generally are fried first, before addition water.

Onion and garlic are the main ingredients.

All types of vegetables are used in Turkish Kitchen and cooked in soucepan.

Usage of butter and grease is decreased recently.

Olive-oil is the main material of starters and is used in rice, salad and all type of fries.

Pounded-wheat is essential meterial as much as rice, (soup, meat-balls, salad).

Dried fruits are used of hoşaf and stewed fruit as well as for meal.

Spices are not used much. Mostly, black-pepper, red-pepper, sweet and hot cinnamon, pimento, thyme, mint, sweat basil, sesame and sumak are used.

Parsley, dill and mint (dried and fresh) are used much in Turkish kitchen.

Yoghurt is one of the main meterial for meals.

Plate decoration is a new progressing art.

Souces are not used much.

When the meals are cooking, salt is added.

There are big variety of dessert. Pastry and pudding dessert dessert ane the most popular, as munch as helva.

Şıra, cyrup and picklecan be daink, during the meal.

Lamb meat is an essential. Usage of beef, chicken and fishis incresing too.

Turkish mezes are consint of vegetables cooked in olive-oil borek, sheese and row vegetables.

Frozen foods and can are not used.

Turkish meat has lers blood because of slaughter system it makes it more delicious.

Special souce-pans and cassoeroles are essential for Turkish Kitchen.

Soup is the main starter.

Service orders are different.

There are several differences between trade and home kitchens.

Yufka and pide are not known in other kitchen.