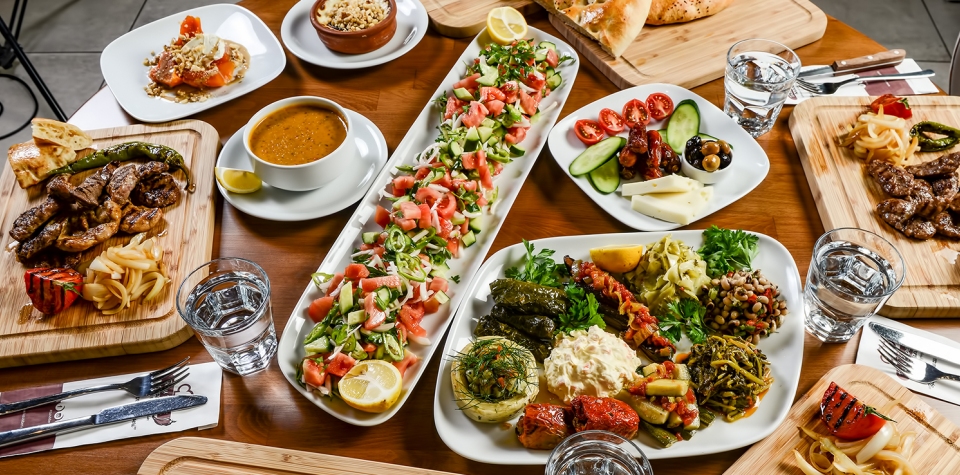 TURKISH CUISINE INFORMATION

DESSERTS
After accepting Islam in the 9th century, the Turks are celebrating a "Festival of Sweets" for three and a half days every year. As can be guessed from the name, during this festival, Turkish delights, marzipans, candy coated almonds, syrupy desserts and baklavas are swallowed by tired mouths in every house visited, and lots of soda is drunk.
Traditionally, guests present their hosts with desserts in Turkey. The idea stems from the philosophy "who eats sweet, talks sweet." All towns have small dessert shops, namely muhallebici. Desserts may be classified into three groups: syrupy pastries, milk puddings and fruit desserts. Syrup is prepared by cooking water, sugar and lemon juice then poured onto baked pastry. Among syrupy pastries, baklava is worth mentioning. Baklava consists of fifteen layers, eight layers of pastry and seven layers of pistachio. Regionally filling may be varied with the substitution of hazelnuts or walnuts. Sekerpare, round pastry with a nut on top; vezir parmagi-finger of the vizier, shape of a finger; harem navels are interesting varieties.
Milk puddings are frequently cooked by housewives as they are simple to cook and light. Babies start nutrition with milk pudding muhallebi when their mothers cease to breast-feed them. Sutlac made with rice; dried apricots stuffed with clotted cream and nuts; red, jelly and pungent quince dessert are some examples. Syrupy desserts and fruit desserts may be eaten with clotted cream. Fruits are also used to make jams and compotes. There are some desserts made on religious occations. Noah's arc dessert and güllaç, thin sheets of pastry rested in milk are gifts of Islam to Turkey.
In Turkey, eat sweet, to talk sweet!
PILAFS
Rice has spread out of China to other cultures, and to the Turkish culture. Custom was to eat pilaf just before the dessert to clean the palate, accompanied by hoshaf- compote of dried fruits, by the Ottomans, whereas it turned out to be eaten as a side dish served with meat or vegetable dishes or pulses nowadays.
Pilafs have possessed an essential part in the kitchens of the Palace and the populace, possible to be eaten both at lunch and at dinner. Rice pilaf with chicken and chick pea is so common that it is sold by street vendors. Schools present pilaf to graduates at commemoration days which are named "pilaf days". Turkish cuisine gives the same importance to pilaf as Western cuisines give to potatoes. The basic ingredient in pilafs are either rice, bulgur (boiled and cracked wheat) or vermicelli. There are varieties of pilafs cooked by adding onion, tomato, vegetables, nuts, herbs, poultry, or meat or combinations of these but generally cooked plain, namely with butter, water and salt.
Rice pilaf is the most common variety. Cooking this pilaf suitably (a good pilaf is white, unsticky, scenty and odorful) is a measure of ability in cooking for the housewives. After pilaf is simmered, it is covered with a cotton cloth to absorb excess humidity. Pilafs are preferably made of long grain rice and shorter types reserved to be used in soups, stuffings and meatballs. Rural areas and Southeastern Anatolia prefer bulgur as it is easier to obtain and cheaper. Bulgur pilaf is cooked with onions and tomatoes and is eaten with yoghurt.
BOREKS AND PASTRIES
Flour and everything made of flour is sacred in Turkey. It is a sin to throw bread into waste and if it falls down, it is kissed and picked up. Turkish people are seldom satiated without bread. Shortly, a table without bread is a garden without flower, for the Turkish people. Flour symbolises fertility to Anatolian people and brings fertility to tables by means of varieties of boreks, and pastries. A pastry is kneaded from water, flour and salt, then rolled into thin sheets called yufka, which is the basic ingredient in a borek.
By adding vinegar, olive oil, eggs, milk, yoghurt or butter, different kinds of pastries may be kneaded to combine with fillings of minced meat, white cheese, spinach, poultry, fish and other vegetables which is then called a borek.
Boreks are classified according to cooking-folding method, type of dough and filling. Potato arm borek is folded in a shape of long cylinder and placed in tray a little twisted and baked; cigarette borek is in shape of a cigarette and fried; zucchini borek is made by placing whole yufkas onto tray, spreading grated zucchini in between and baking. The most popular example is the water borek. Rather coarse yufkas are boiled in salty water and laid on a tray with fillings of white cheese, spinach or minced meat then baked in the oven after being sprinkled with considerable butter.
Another example is manti which needs skill and patience, made best at Kayseri. Manti resembles Italian ravioli but the filling is necessarily onion and minced meat, not vegetables. Manti is eaten as main dish and served with a helping of garlic yoghurt and red pepper sauce. If you come to Istanbul and see gulls eating simit-sesame seed pastry, thrown by passengers of Bosphorus steamer, do not be surprised. Pastry addiction is reflected to animals.
VEGETABLES IN OLIVE OIL
Olives, choosing the Mediterranean as their natural habitat, are eaten copiously on breakfast and display a very essential role in Turkish kitchen by being squeezed for their oil. Vegetables cooked in olive oil may be the heroes of vegetarian diet with high vitamin and mineral content and charming outlook. These dishes are the sultans, the most respected and cooked dishes, of summer time with appealing odour, taste together with chilliness and lightness.
Turks never utilize vegetables as garnishes or side dishes as they take this as an insult to the vegetables but give them utmost importance by cooking them solely as a nourishing dish. Being cooked in olive oil, they may be eaten with lemon, yoghurt or tomato sauce served warm or chilly. Green beans, eggplants, zucchini, green pepper, artichoke and broad bean are just a few examples to be mentioned out of many.
Creativity in kitchen finds its meaning in stuffed vegetables in olive oil and in stuffed vine leaves. Combining vine leaves,currants, rice, pinenuts, cinnamon, dill, mint and olive oil results in a mouthwatering dish which is the favorite of many people. Olive oil is used lavishly in cooking vegetables with a little water; in salads, in breakfasts to dip toasted bread. If you want to meet the real characters of vegetables, to meet modest zucchini, friendly green bean, fiery eggplant and tickling broad bean, try cooking them in olive oil; you'll see the difference.
MEAT DISHES
Turks, who were nomads in Central Asia had a diet consisting mainly of meat, yoghurt and cheese. As hunting is one of the main sources of food, wild animals possessed considerable importance for nomadic Turks. Although Turks are freedom loving and impatient, when it comes to cooking meat they are patient enough to try a variety of methods to improve the taste and texture of meat.
After settling in Anatolia this meat based diet continued and in spite of inflated meat prices today, still continues. Restaurants specialized in cooking meat (kebap houses), specialized in offal dishes (tribe soup shops) and stores selling only meat (kasap) are the silent witnesses of this old meat diet tradition. In feasts, celebrations and weddings, animals are eaten whole rotating on a metal wire hung over charcoal or meat is cut into huge slices and grilled whereas housewives cook meat after cutting into bitable sizes or after mincing. There are many varying meat dishes in the Turkish cuisine. These dishes differ according to cooking methods which are named grills, casseroles, stews, çevirme-rotating over fire, tava-frying, kavurma-cooking with own juice, sahan-in the pan, yahni-cooked with tomato paste, bugulama-steamed, boiled. Meat is flavoured with vegetables, fruits or milk either by marinading or cooking together.
The most known meat dishes are doner, kebap, meatballs and stuffed varieties. Traditionally, lamb and mutton are the basic sources of the Turkish diet. However beef has entered Turkish kitchen and seems to be the leading meat source in West Anatolia. Pork never enters a Muslim kitchen although wild boar is often hunted. One interesting reality is that cooking camel meat is permitted by Islam but camels are only seen at touristic towns posing to cameras with a hat on. Additionally hare and deer are cooked rarely in regional cuisines.
Thyme, mint, mild or hot red paprika, cumin, parsley and bay leaf are the most usual companions to meat which is nearly always cooked, marinated or served with onion.
POULTRY DISHES
If you happen to stay overnight in a Turkish village you will wake up at dawntime by the scream of a cock instead of artificial buzzling of alarm clocks. You will see hens, cocks and children running to and fro in the courtyard. Fresh eggs straight from the hen house are eaten at breakfast.
Almost every household in villages feeds hens and cocks, guests are served poultry dishes; Amongst poultry, chicken is the one most widely and frequently consumed. However hit of the new year night is the turkey roasted with a stuffing of rice and chestnuts. Goose, quail and duck is also seen rarely in regional cuisines. Harmonious chicken is used in almost every kind of dish. It is used in casserole dishes as in chicken and okra casserole, vegetable casserole; or as fried, grilled. In addition, it is in soups (chicken soup vermicelli), boreks, pilafs and incredibly in desserts.
Circassian chicken made of chicken torn in tiny pieces and a walnutty sauce and chicken stuffed with rice and pistachios are the two examples deserving special attention. Mentioing a dessert made of chicken, we shall define the process; chicken breast beaten for a long time is added into a milk pudding and served with cinnamon to be called "tavukgöğsü" meaning breast of chicken.
VEGETABLES AND PULSES
The mild climate of Turkey is suitable to grow very different kinds of fruits and vegetables which are presented in colorful and cheerful market places arranged neatly in rows together with herbs, pulses and spices. These market places are so attractive that you can not just pass by without buying an item. Vegetables are never treated as second class, in the Turkish cuisine. They may be sauteed or fried, like sauteed spinach; cooked in olive oil, like green beans in olive oil or cooked with meat, poultry, pastirma or sucuk (both spicy charcuterie) to be served as main course.
They are also used lavishly in salads, boreks, mezes and soups.Among all vegetables, eggplants have a special place. They are cooked in nearly fourty different ways. They are fried, stuffed, baked, charcoaled and used in boreks, jams pilafs, kebaps. Most popular examples are; karniyarik; baked aubergine stuffed with minced meat, tomato, parsley and onion, imam bayildi; cooked in olive oil stuffed with onion and tomato, salad made of charcoaled aubergine, with a smoky odor and taste.
Green vegetables like spinach, chard, purslane are not accessories served with meat as in foreign cuisines, they are cooked with onion and tomato with a little water, served with yoghurt or cooked with a little fat to which eggs may be added if desired. Besides vegetables, pulses are mainly consumed in winter. In summer fresh and green pulses are widely used. White beans either with pastirma, sucuk or meat is the favorite and served with plentiful of rice pilaf and mixed pickled vegetables and generally onion.
FISH AND SEAFOOD
There are many doorless, windowless shops open all-year in Turkey, which sell fish and seafood laid in colourful, round, wooden trays. Turkey is a peninsula having shores on three sides, these seas contain many varieties of fish. Some examples to most common species are mackerel, red mullet, blue fish, sardines, horse mackerel, large bonito, bonito, tuna fish, anchovy, grey mullet, turbot. Lobsters, crabs and oysters are expensive and thus only exist on the tables of the rich. Shrimp, mussel and squid are the other seafoods which are frequently used.
Coastal cities, especially Istanbul and Izmir, use seafood frequently, whereas the other cities do not use fish in their local cuisine. Istanbul, host of the Ottoman Palace and thereby traditional Turkish cuisine, has been the birth place of a dish called 'uskumru dolmasi' -mackerel stuffed with nuts, raisins and spices, which is full of creativity. Fish are generally fried by blending with flour; steamed with a little water; or grilled. People experiencing fish in Turkey think that fish is cooked in only these three ways.
However, in Turkish cuisine seafood is also used in soups, pilafs, casseroles, on skewers, stewed. Among all varieties, there is a special one related to Blacksea people; hamsi-anchovy. Figures in folk dance of this region symbolise fidgeting anchovies. Anchovies are used in many inconceivable ways. They are pickled, grilled, dried and used in soups, boreks, breads, pilafs and desserts.
The most popular seafood is the mussel; dipped in batter and fried served with tarator sauce; stuffed; used in pilaki and pilaf.
SALADS AND MEZES -APPETIZERS-
Although there is a conflict in Turkish Cuisine as to which dishes are mezes and which are salads, there is one fact admitted by everybody: raki is served with mezes and salads. All fermented alcoholic drinks, including are is prohibited by Islam. Therefore, Turks, after settling in Anatolia, have never made use of delicious grapes grown, by producing wine. However, a combination of grape and anise was distilled to produce raki whose production was then widespread and improved as an alternative to wine.
During the reign of Ottomans, raki was drunk just by men, who were accompanied by lute playing and singing ladies. Raki, served with two separate glasses, one for the spirit, one for water, used to be drunk with delicious and charming mezes. Raki tables were addresses where men enjoyed good music and good talk. If men preferred to drink with friends, they went to meyhanes, restaurants serving only raki, meze and salad, sitting on short stalls around a short table chatting and improving their friendship, while tasting numerous and mouth-watering mezes.
In Turkey, politics and arts are discussed on raki tables similar to cafes in France. After the establishment of the republic in Turkey, the system of new government was decided at raki tables of Mustafa Kemal Atatürk. Nowadays meyhanes are also frequented by women and the tradition of serving numerous varieties of mezes and salads in small cups, presented on a large tray still continues. The purpose of eating meze is not to make the stomach full, but to ease the drinking of raki and to tickle the palate.
In serving meze, variety is more valued than harmony; hot, sweet, salty and sour varieties are in unity. Small boreks are served hot, whereas salads and mezes in oliveoil are served cold. The only common point of mezes is that all varieties are delicious and attractive. Salads and mezes are eaten nearly in all the meals also without raki as the main course or as the accompanier of main dishes. We can say that the only sauce for salads is made of oliveoil, lemon juice or vinegar and salt which is used lavishly on any kind of vegetable according to the season and the tastes and preferences of the lady preparing it.
The only exception to this light sauce is the yoghurt sauce consisting of yoghurt, olive oil, garlic and salt usually poured over charcoaled or fried vegetables. "I wish I were a fish in a bottle of raki." Line of the famous poet Orhan Veli simply summarises the passion of Turkish people for raki and the raki table and mezes and salads.
SOUPS
Soups have traditional importance and are generally served as the first course. Eaten on every meal including breakfast, they are warm and misty, to help us in cold winter days. Soups are nourishig, natural and varied in Turkey. Tarhana soup is made of a savoury dough made and dried in summer which is cooked with tomato paste and water. Prepared in advance and cooked months later, tarhana may be the ancestor of modern instant soups. Spicy and pungent hot yoghurt soup brings the scent of valleys into houses as its Turkish name suggests. Lentil soup and chicken soup are cooked by every housewife. Fish soup prepared in coastal regions adds different tastes to Turkish cuisine. Beef's tribe soup is a help to imbibed stomachs after a long night of drinking raki; wedding soup made of mutton neck is served on wedding feasts. These two soups are the authentic examples of Turkish soups.
There are four different types of cooking soups: consomes with vermicelli, vegetables, rice and meat like chicken vermicelli; vegetable pastes with butter and flour roux like tomato soup; with yoghurt like green bean soup; cultured with lemon juice and eggs like cultured chicken soup. The only exception to hot soups is cacik served cool or cold in the summer. Cacik is not a starter but a cooler to be eaten with the main course and pilaf.