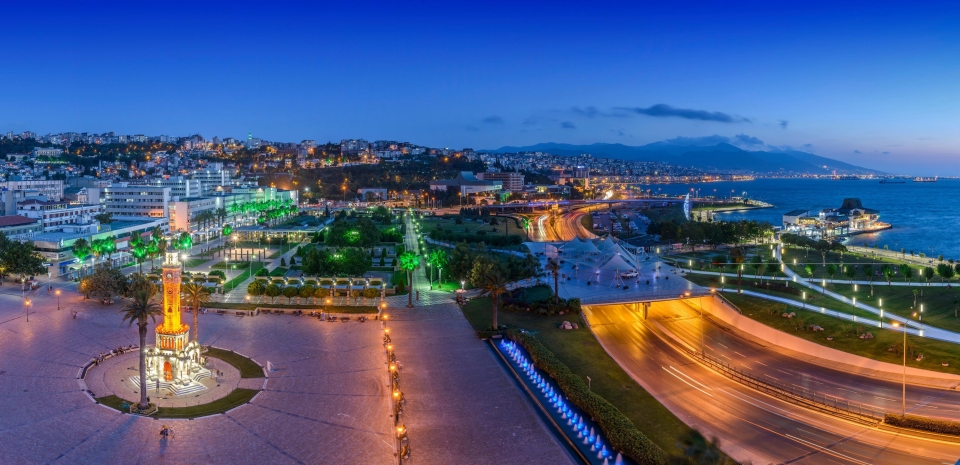 IZMIR CITY GUIDE

İzmir, which is the third biggest city of Turkey, is a modern, developed, and busy commercial center. It is very tipsy to travel within its vivacious shopping center. The Çesme Peninsula, lapped by the waters of the Aegean Sea, lies west of Izmir. Ephesus, which was one of the most famous cities of ancient times, was one of the biggest cities of the world during Roman period. Ephesus, which contains riches of all Ion culture, was also increasing its reputation with dense artistic activities.
Known in Turkish as "Beautiful Izmir" the city lies at the head of a long and narrow gulf furrowed by ships and yachts. The climate is mild and in the summer the constant and refreshing sea breezes temper the sun's heat. Behind the palm-lined promenades and avenues, which follow the shoreline, the city, in horizontal terraces, gently ascends the slopes of the surrounding mountains. Izmir's port is second only to Istanbul. A cosmopolitan and lively city all year round, Izmir bursts with an added vibrancy during the international Arts Festival (June/July) and the International Fair (August/September).
Sites of Interest
Dikili, Foça, Çeşme, Seferihisar and Gümüldür shores, Balçova-Çatalkaya cable lift, Asansör (Lift), Yamanlar-Karagöl, Tunay, Uzunkuyu, Belkahand and Çamlık forest recreation areas, Balçova-Agamemnon, Çeşme-Şifne, Bergama-Güzellik, Menemen, Seferihisar, Bayındır, Foça (Phokaia), Larisa, Erythrai, Klazomenai, Teos, Lebedos, Kolophon, Klaros, Notion and Efes (Ephesos) antique city ruins, House of Virgin Mary, Bayraklı, Kadifekale, Artemis Bath, Kızılçullu and Selçuk aquaducts, Agora of İzmir, Çeşme and Selçuk castles, Belevi Tumulus and Grave Monument, Bergama, Ödemiş and Tire Grand Mosques, Faik Pasha, Hisar, Hacı Hüseyin (Başdurak), Kestane Pazarı, Ali Ağa, Hatuniye, Çorak Kapı, Konak, Kurşunlu, Şadırvan, İkiçeşmelik, Salepcioğlu, İsa Bey, Mehmed Bey, Kazganoğlu, Yeni, Pasha and Rüstem Pasha Mosques, Kızlarağası, Mirkelamoğlu and Karaosmanoğlu Inns, Sultan Şah, Mehmed Bey, İbn Melek and Süleyman Şah mausoleums, İzmir Clock Tower, İzmir Atatürk and Menemen Kubilay Monuments, International İzmir Exposition, İzmir Archeology, İzmir Art and Sculpture, İzmir Atatürk, Efes Archeology, Bergama and Tire Museums, Kemeraltı Bazaar, Asansör (Elevator), Cable Railway Facilities, Kültürpark, Botanic Garden.